Mission Statement
The University of Miami Counseling Center (UMCC) provides a wide array of effective and quality multi-disciplinary psychological services. Respecting diversity and all cultural identities, we empower students to realize their goals for personal and emotional development. We connect with the university community through outreach, prevention and consultative services. As an accredited training site, the UMCC fosters the educational and professional development of its staff, trainees and licensed clinicians.
We are a dedicated team of passionate professionals, who create a caring and compassionate environment that reflects our commitment to the success of the University community.
Vision Statement
"To optimize the psychological and emotional well-being of a diverse University community."
Diversity Statement
The University of Miami Counseling Center values a campus climate that provides a safe and optimal learning environment for all students. In keeping with this mission, the UMCC is committed to providing leadership in areas of diversity that include but are not limited to LGBT populations, international student populations, first-generation college students, and cultural/ethnic minority student populations.
---
Student Well-Being Resources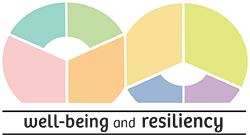 College can be challenging. For many students, it is the first time they are granted this much independence. Juggling classes, study time, and activities often leave little time for self-care, ultimately affecting well-being.
To help students understand the eight dimensions of well-being and access the many programs and services offered at the University of Miami, the Division of Student Affairs Healthy 'Cane Network assembled a collection of on-campus, off-campus, and online well-being resources at miami.edu/well-being. By taking advantage of all we have to offer, students will be equipped with the necessary resiliency, coping, and conflict management skills to address personal and interpersonal challenges in life.