Telemental Health Options continue to be available for UM students. These options can be done over the phone or video conferencing. Should a student be seen in-person, their healthcare provider may ask them to wear a mask (provider and patient). The offering of in-person services remains contingent on Covid related conditions. 
The UM Counseling Center will have limited spaces available for students to conduct their Telemental Health sessions, should they need a private space. Availability of these spaces will depend on demand. Please bring your own equipment to conduct your Telemental Health session, as none will be provided.
If you are experiencing any Covid-19 related symptoms such as fever, chills, cough and shortness of breath please schedule a Telemental Health Visit with the UM Counseling Center or call to speak with one our office assistants.
The Brief Assessment Appointment and Initial Session
When you first contact the Counseling Center to schedule a visit, you are scheduling a "Brief Assessment Appointment". This appointment is designed to provide an overview of your concerns and expectations to see what course of action will be most beneficial to you. You will receive additional instructions on how to move forward after this session.
After your "Brief Assessment Appointment" you may be referred to an "Initial Session". This would be the start of your experience with a Counselor or Psychiatrist. This session MUST be done via video so that the provider can see you. It can then be transitioned to phone if appropriate. For any session, the provider may request a video session to see you. You will be directed to complete an additional form for a psychiatric appointment.  
Appointment Scheduling Steps:
Call 305-284-5511 during regular business hours to schedule your "Brief Assessment Appointment". One of our reception staff members will assist you.
Once scheduled for a "Brief Assessment Appointment", you must complete your paperwork 30 minutes prior to your appointment. Click here, then click "Check-In" to view the paperwork and complete the following forms:

Telemental Health Informed Consent
All Brief Assessment Forms

Call the Counseling Center during regular business hours for assistance.
If you are referred for an "Initial Session" appointment and have scheduled the appointment, follow the steps above to complete the following forms 30 minutes prior to your appointment:

All Initial Session Forms

Call the Counseling Center during regular business hours for assistance.
Log in to the video platform chosen by you and your counselor in a private area and wait for your counselor to connect with you.
To receive care, you must be physically located in Florida or a jurisdiction that your provider can practice in.
Please have your C Number available upon contacting our office.
Paperwork
To help ease the telemental health process, all paperwork is available to you virtually. If you are instructed to complete any paperwork by counseling center staff, click the button below then click "Check-In" and select the appropriate item from the list provided.
WARNING: Entered paperwork is reviewed  same day prior to your scheduled appointment. If this is an emergency, call 911 immediately or call the after hours line at 305-284-5511 (Press 1)
What to expect from a Brief Assessment Appointment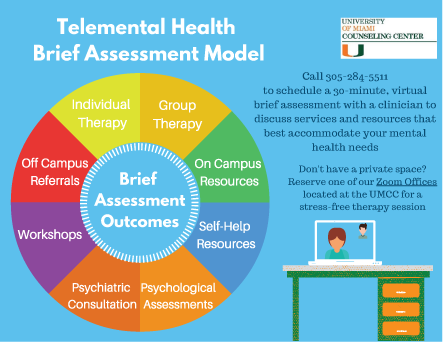 IF YOU ARE EXPERIENCING A LIFE-THREATENING EMERGENCY, CALL 911 IMMEDIATELY OR GO TO THE NEAREST EMERGENCY ROOM.