You will gain hands on service experience by becoming a COPE Peer Educator! Benefit from receiving training and mentoring from Counseling Center Clinicians in topics related to personal and professional growth.
At the Counseling Center, we believe students are the experts on what other students want to learn!  As a member of COPE you attend weekly meetings to plan and executive program initiatives that YOU choose. As a Peer Educator, you will gain valuable leadership experience while making a difference in your community.
Recruitment and selection process for new Peer Educators occurs each fall semester. For more information about COPE, please email COPE@miami.edu.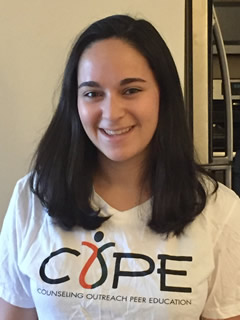 Sydney Feldman, COPE Chair

"It is through COPE that I have been able to connect with fellow students and assist those who are struggling in finding the help they need. I have learned the importance of listening, sensitivity, and kindness.  I have seen the effect these values can have on encouraging students to make positive decisions."